Last Updated on June 6, 2023 by Rizwan
Are you struggling to download DirectX 12 and install or upgrade it on Windows 10 PC? This guide will cover everything you need to install DirectX 12 latest version on Windows 10 operating system.
What is DirectX 12?
DirectX 12 is the latest version of DirectX by Microsoft which is released for Windows 10, exclusively. It allows graphics intensive software and games to directly access video and audio hardware for maximum performance.
It is a kind of framework which is used to develop software/games by developers and our computer needs respective version of DirectX installed in order to render/play/run that software or game on our Windows PC.
DirectX 12 supported games can use GPU in much better way to render maximum graphics, video and audio experience. As a result, the games produce vivid graphics quality and crispy sounds with ultimate details.
Learn more about DirectX 12 here >>
Warning! There is no (online/web/stub or offline) standalone installer for DirectX 12 released by Microsoft. Our download link will not download any setup or installer, rather it would take you to Microsoft DirectX help page where you can find useful guides about DirectX 12 download and upgrades.

Beware of fraud sites which download DirectX 12 fake installer on your computer. Those installers will download sponsored software, adware, virus and other stupid software which will surely harm your computer.

Remember these two things: DirectX 12 is only available for Windows 10 and the only method to upgrade DirectX 12 is Windows updates.
Follow these steps to install DirectX version 12 on Windows 10:
Check which version of DirectX is installed on your Windows PC
Download, install and upgrade DirectX 12 from Windows Update
Check your current installed DirectX version
If you are using Microsoft Windows 10, you might already have DirectX version 12 installed because it is the part of Windows 10 and comes as pre-installed component. But you can confirm the current version of DirectX installed on your Windows 10 PC/laptop. Follow these steps:
If you are running any older version like Windows 7 or Windows 8, you will not be able to install DirectX v.12. However, you can use this method to check the current installed version of DX on Windows.
Press the Windows key on your desktop to open Windows 10 Start menu.
Type dxdiag and click "dxdiag" program in the search results in order to open DirectX Diagnostic Tool.

Wait for a few seconds while the programs diagnosis system hardware.
Under the System tab you can see the DirectX version at the end of system information section (see screenshot for exact location).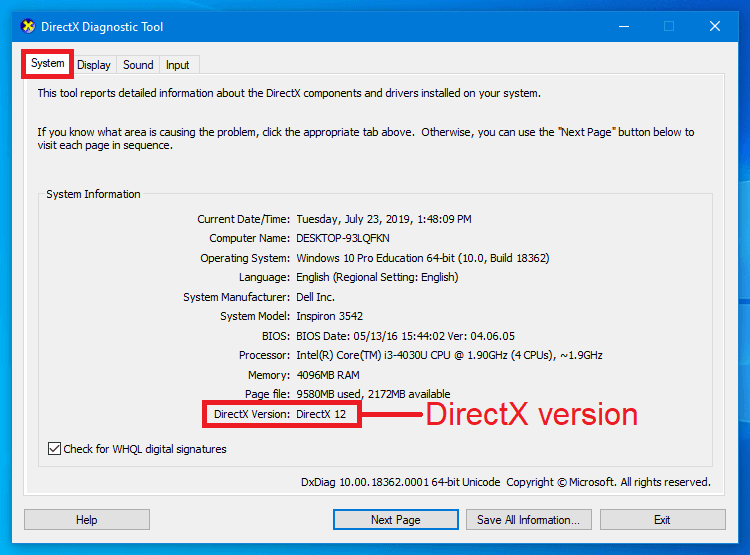 If you have version 12, then congrats. You have the latest version of DirectX installed. You can skip the rest of guide. But if you see any prior version like DirectX 11.3, 11.2 or older version, don't worry, just keep going with following steps.
---
Download and install DirectX 12 via Windows Update
If you do not have DirectX v.12 but an older version installed on Windows 10, you can upgrade the old version to DirectX 12 latest version from Windows Update feature. Follow these steps:
There is no package like online/stub installer or offline standalone installer setup for DirectX 12. Windows Update is the only possible way to download and install the 12th version of DirectX on Windows 10.
Press Windows key + I keys together on keyboard to open Windows Settings.
Click on Update & Security option in Windows settings.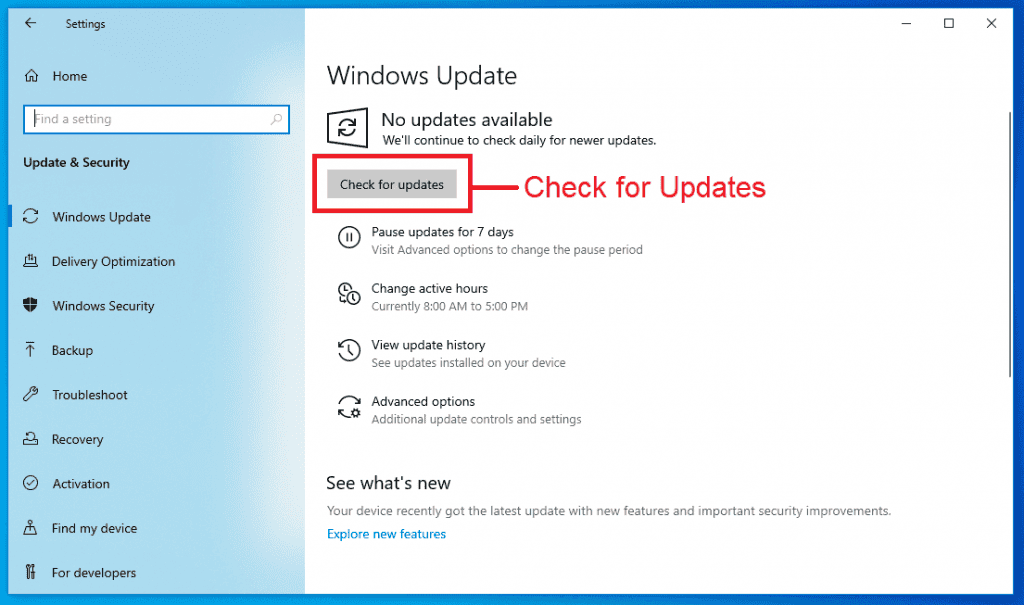 Click on Check for updates button to check for latest available updates.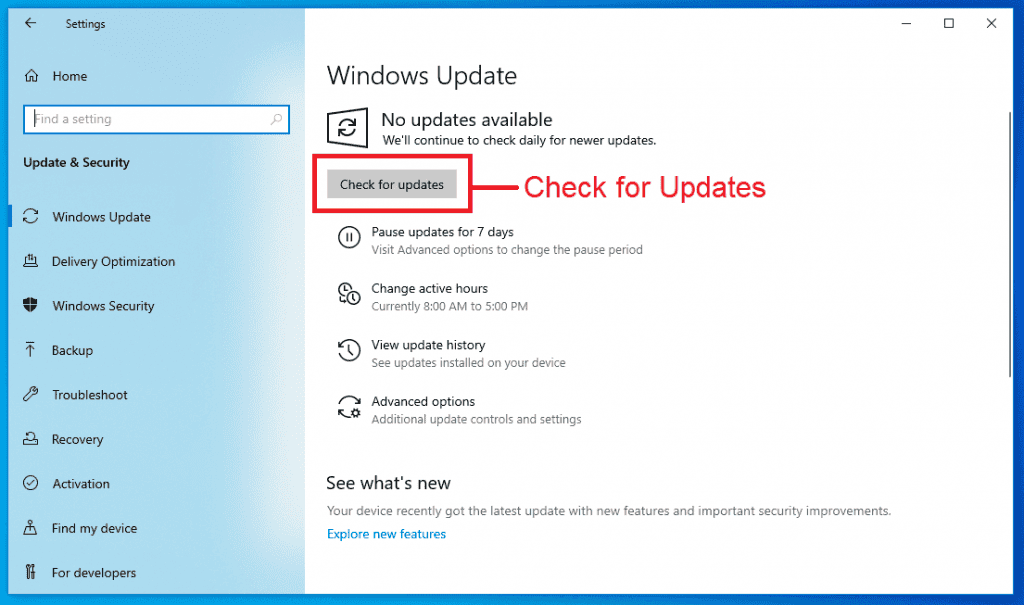 Checking for updates can take a few seconds or minutes and show the available updates. Just download and install updates. It might take time, depending on size of update and internet connection speed.
The computer will restart or ask you to reboot in order to finish installation. Restart and then check the DirectX version using "dxdiag" utility (see above steps).
If the version shows DirectX 12 installed, then congratulations. If not, don't worry, check for updates once again and install updates until you get DirectX 12 version.