Last Updated on September 26, 2023 by Rizwan
A utility software meant to boost your computer's FPS performance.
Timer Resolution is an intriguing small Windows tool that lets users change their computer's resolution in order to perform better in games.
When it comes to computer gaming, It's safe to say that it's a serious business. The bulk of gamers is only concerned about two issues.
The first is increased latency, while the second is decreased FPS. If you're not sure what FPS stands for. It's frames per second, which is a measurement of how many successive images a screen can display in a single second.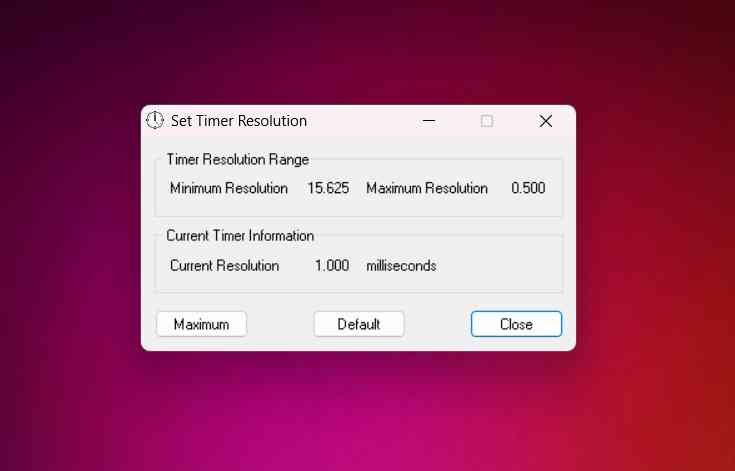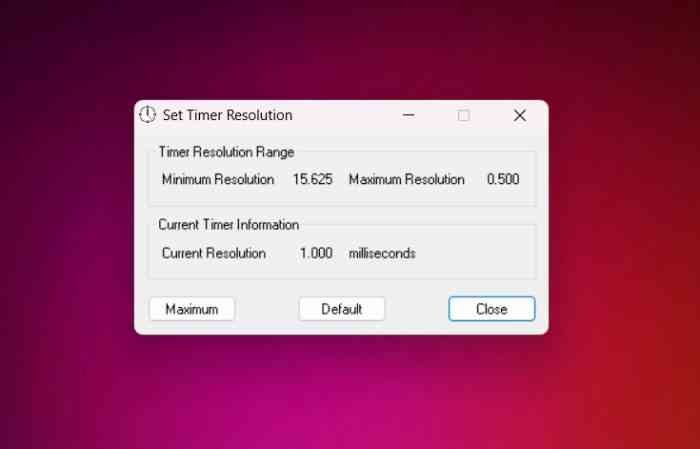 What is the Timer Resolution?
If you are a dedicated player, you may encounter two issues on occasion: latency and FPS drops. Timer Resolution allows you to control the frame rate. To remedy the dreadful micro-stuttering in Windows games, all you need is a solution that allows you to correct FPS, which means matching the frames with the game without skipping a single frame.
If you test latency with each game, you will observe that the frame times are quite high, causing the frames to hitch in what gamers call "micro stutter," which is when the GPU skips a frame because it was rendered too late to be displayed in the time required. That is all because the default timer resolution in Windows 10 is set to 35ms, therefore all you need to do is change the default setting for Timer Resolution!
The default Window timer (used to schedule a specific event for a window once in a while) is typically 10 to 25 milliseconds. As a result, Timer Resolution was created for individuals who want to code their windows to have varied timer lengths. Once configured, this useful program will operate while the application is still running and will automatically return to the last value when closed.
It turns out that the quality of our computer monitors can have a significant impact on the quality of our games.
It can cause significant FPS dips, making our favorite games look like picture books. Consider attending a movie in a theater where the image continuously skips. That is what the average gamer feels when their FPS drops.
Timer Resolution enables the user to modify the resolution of the Windows timer. This significantly improves the gaming experience regardless of the game being played.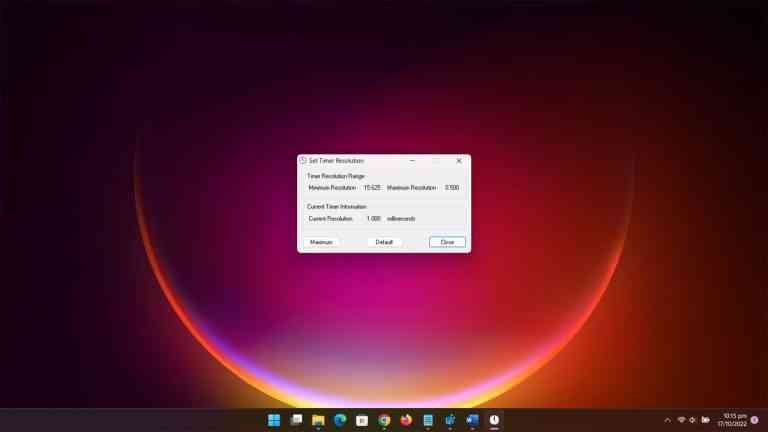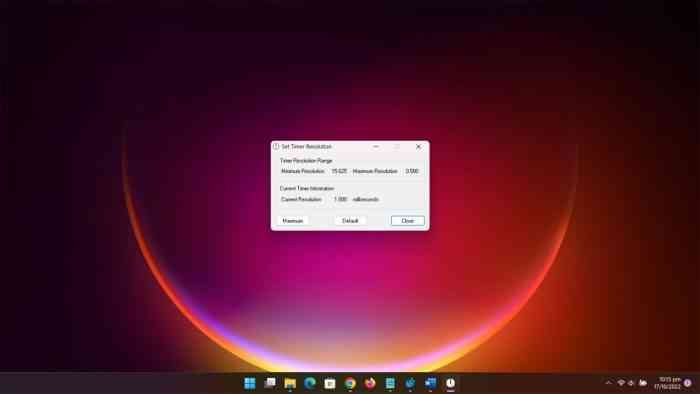 People will notice a difference in first-person shooters more than in any other game. The reason behind this is that in first-person shooter games, the player's field of view is continuously altering.
As wonderful and straightforward as this application appears, I must caution you. This will take some getting used to, and I wouldn't recommend it to anyone who has never experimented with a resolution before.
The learning curve can be severe, but once you've mastered it, the application will do the rest. Before you begin making modifications, I recommend watching a lesson online or at the program's official website.
Timer Resolution Overview
Do you wish to change the resolution of your Windows computer's standard timer? If yes, you can complete this activity in seconds by using the Timer Resolution tool.
The default timer ranges between 10 and 25 milliseconds. The expected outcomes cannot be obtained if the code's sleep value or timer is less than your system's timer resolution.
You can change the timer resolution globally while the application is running by using the Timer Resolution program. When the application is closed, the previous value is restored.
The tool's primary goal is precision. The utility on your Windows system measures time in smaller incremental units to obtain greater precision. You will obtain the desired precision, but the accuracy will be determined by the processing power of your Windows machine.
A faster processor means more precise time measurement. Controlling the stopwatch functions will be straightforward. The stopwatch will display the time in milliseconds, seconds, minutes, and hours.
The default format can be changed by going to the Settings panel. The stopwatch timer is controlled by the buttons shown.
If you know what the hotkeys are, you can control it as well. However, if the hotkeys stop working for whatever reason, simply restart the software. Check that the executable file has administrator rights.
Time Resolution allows you to start and stop the timer. One thing is certain: this program is an extremely accurate stopwatch timer developed for Windows systems. This timer tool has a wide range of applications.
Timer Resolution Review
Timer Resolution allows you to modify the resolution of your default Windows timer in a matter of seconds, which boosts the FPS of the games you're playing.
Concept of FPS
FPS stands for frames per second. This is how video functions. A video is a collection of static images that, when viewed sequentially at a given speed, create the illusion of motion. Each of those images is referred to as a "frame."
The frame rate, then, is the rate at which those images are displayed, or how quickly you "turn" through the book. It is commonly stated in terms of "frames per second," or FPS. So, if a video is captured and played back at 24 frames per second, each second has 24 separate still images.
The speed at which they are exhibited fools your brain into thinking it is seeing seamless motion.
Finally, FPS is an abbreviation for Frames per Second, which is used to help run a video. We all know that a video is a collection of distinct still images that run at a high pace and are viewed in motion. All images associated with a video are referred to as 'Frames.' FPS, or Frame per second, refers to the rate at which visuals are shown. A video with 25FPS, for example, has captured and played 25 distinct still images.
Tweak Default Windows Timer
The usual Windows PC timer will range between 10 and 25 milliseconds. That is not a good thing if you are playing games and are concerned about every aspect.
Some games that utilize this method have demonstrated that these minor nuances boost accuracy.
What Does Timer Resolution Do
You can modify the Windows computer's default timer resolution with this tool in a flash.
It'll boost your frame rate (FPS), giving you a slight edge over other players in your games.
In many cases, the processing capability of your computer is what determines how effective this method is.
Set the Timer Resolution With Ease
To alter the timer's resolution, you can use the aforementioned tool, as its name suggests. When you want to gain an edge in games, changing the resolution can help.
This is most obvious in first-person shooter (FPS) games like Fortnite that are played online, where every second and detail counts and where pinpoint precision is essential.
The default timer resolution is between 10 and 25 ms, which is likely something you already knew if you've ever used the default settings.
It may not seem like much, but in games like first-person shooters (FPS), the tiniest of differences may make a world of a difference. Timer Resolution is useful in this case.
Intuitive Hotkeys Setup
Setting up shortcut keys for the app's functions is a great way to maximize productivity. In the preferences pane, you can alter the default format. The stopwatch timer can be operated both by the buttons and via shortcut keys.
The stopwatch and other app settings are controlled by a wide range of possible button presses and combination swipes.
How to set Timer Resolution?
These are the basic procedures to take to alter the window's timing resolution:
Get the latest version of the Timer Resolution.
Because it is a portable app, there is no need to make any changes to your Windows system in order to use it. Simple execution is possible. (it is suggested that you launch it in Admin mode).
The application's Timer Resolution range, minimum and maximum, can be accessed after launch. Your current resolution will be displayed as well.
In order to increase your frame rate, you may now just click the "Maximum" button.
Is it good for gaming?
This fun and useful Windows app, known as Timer Resolution, lets you adjust your monitor's settings for optimal gaming performance. I think it's fair to call playing video games on a computer a serious hobby. The vast majority of players only have two big gripes. Firstly, there is the issue of latency, and secondly, decreases in frame rate are a problem. If Frames Per Second is unfamiliar to you. How many sequential images may be displayed on a screen in one second is expressed as frames per second.
How did this application get created?
The background to the creation of Time Resolution is detailed here.
I needed a program to run every 5 ms but could only get it to run every 12 ms no matter what I tried. It turned out that setting my timer to a value greater than 12ms also yielded results with a jitter of up to 12ms.
Why was a delay of 12ms so remarkable? The magic number was 15ms on a different PC; what the heck was Windows doing? It's time to pull out your phone and type in a query.
I decided to investigate if the value varied with time or CPU usage by leaving the software running. The program's output suddenly dropped to 5ms with almost no jitter. I discovered through trial and error that if I loaded a certain web page, the application functioned as intended. The uniqueness of this page is what struck me. I discovered a Flash-based ad on it, which led me to the following piece of information. To test my theory, I simply exited the browser and launched Media Player. It appears that the system-wide timer resolution is adjusted whenever a multimedia application asks a higher resolution timer.
Now I knew how to fix the problem, but the solution involved connecting to the winmm.lib, which didn't sit well with me as a programmer because my app had nothing to do with multimedia. After some additional digging, I found the native API's documentation. I finally found a lightweight option that worked! I'm hoping that the software may help clarify some things for you. In my experience, it enhances the speed and responsiveness of a wide variety of software programs.
Time Resolution Publisher's Description
Timer Resolution is a small tool that modifies the Windows default resolution, improving your gaming experience by boosting your frame rate and decreasing your latency. By synchronizing the frames without skipping a single individual frame, it may make even the most demanding gaming experience fluid and thrilling. Windows' built-in standard timer has a range of just 10–25 ms, which is far too short for your game's needs. Your current code needed a timer that was a perfect fit. Whenever you power down your smartphone, the app will automatically reset the timer to the factory settings.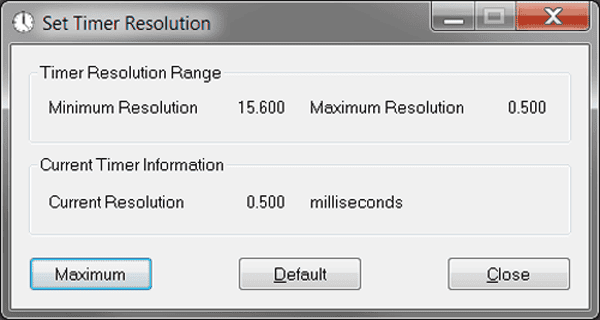 This program, known as Timer Resolution, allows users to alter the Windows system timer's default resolution. The Windows default timer has a range of 10–25 ms. Because of this, you will not obtain the expected results from your code if it utilizes a timer or sleep value that is smaller than the timer resolution on your machine. As long as the app is open, the timer resolution will be adjusted worldwide; when the app is dismissed, it will revert to its original setting.
With a higher Timer Resolution, you'll be able to monitor time with more precision in not just Windows programs, but also games like Fortnite. Those who value accuracy will find Timer Resolution to be a useful tool.
By increasing the Timer Resolution, 1ms timers are possible.
About Timer Resolution
Timer Resolution is a free utility that may be found in the System Utilities' Other folder.
The English language is supported by this show. The page was most recently revised on June 5, 2022. The following systems can run Timer Resolution without any problems at all: Dissimilar, Windows.
Lucas Hale is the manufacturer of the Timer Resolution system. The creator has only released version 1.2 so far. We had 1101 users rate this version, and they gave it an average score of 3.1 out of 5.
Timer Resolution is 6.66 KB in size and can be downloaded here. To begin downloading, simply click the green Download button. Since 2007-10-07, when we first posted it here, 2852003 people have downloaded the application. Although we have verified the link's safety, it is always a good idea to run any newly downloaded software through an antivirus program just in case. Use the contact page to let us know if the Timer Resolution is flagged as malicious software by your anti-virus software, or if the download link isn't working.
Setup for Timer Resolution on a Windows PC is as follows: To access the download page, please visit our website. It will begin downloading from the developer's website.
When the Timer Resolution has finished downloading, double-click it to begin setting it up (assuming you are on a desktop computer).
The program should be visible and usable after the installation is complete.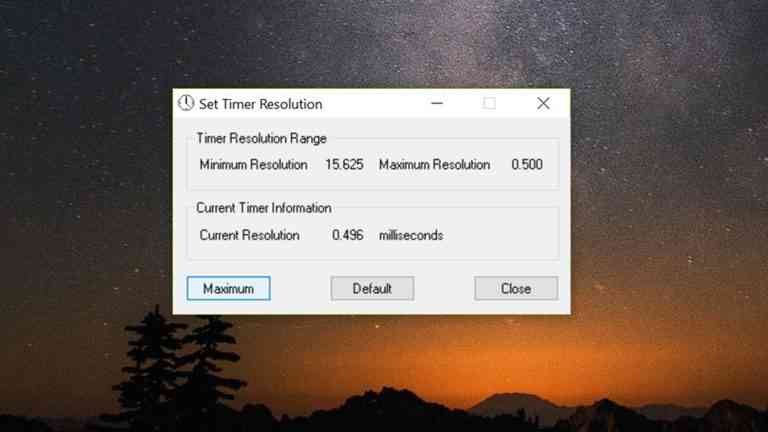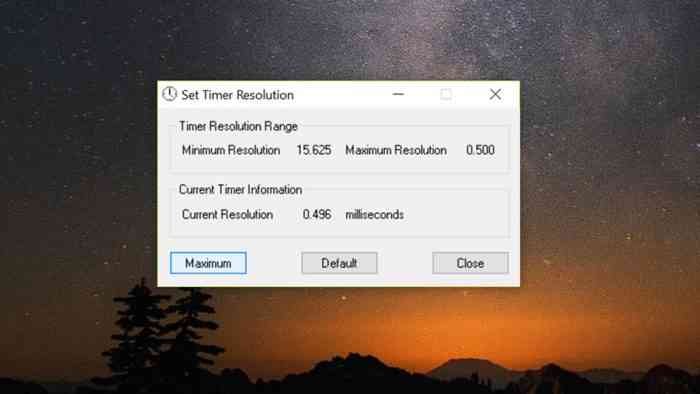 Timer Resolution Features
TimerResolution is a program that lets you alter the Windows system timer's native resolution.
Windows XP's default timer has a range of 10 to 25 ms. Therefore, you will not receive the expected results from your code if it uses a timer or sleep value that is less than the timer resolution on your system.
As long as the app is open, the timer resolution will be adjusted worldwide; when the app is dismissed, it will revert to its original setting.
You can use it without paying a dime, and it has a high-quality resolution that will always work. A better gameplay experience is possible.
As it turns out, the quality of the games we play on our computers is heavily dependent on the monitors we use. It can cause frame rate reductions so severe that our favorite games become unplayable.
Imagine going to the theater and experiencing constant visual skipping during the film. As experienced by the typical gamer when their frame rate drops.
The standard Windows timer can have its resolution adjusted via Timer Resolution. Whatever game you're playing, this helps improve the experience significantly.
First-person shooters are the only video games where players are likely to perceive a difference. In first-person shooter games, the player must continually adjust their perspective.
There is a warning for you, despite the wonderful simplicity of this program. It will take some practice to get acclimated to, so first-time users of the resolution shouldn't do this.
While the program has a steep learning curve, once you get the hang of it, it very much runs itself.
A tutorial video can be found on the program's official website or elsewhere online, and you should watch that before making any modifications.
Fast Performance
Windows allows you to rapidly adjust the default settings to match whatever timer you need. Using the tool effectively does require a modicum of ability. In order to get the most out of the tool, prior experience with timer resolution or a similar program is recommended. It can increase your game's FPS capacity, making it easier to win competitions. It all comes down to the processing capability of the central processing unit; a high-powered CPU is of greater assistance in this situation.
Free to Use
Use of the software doesn't cost a dime. There are no upfront or recurring fees, nor are there any other costs associated with using it. The most recent change was made on June 5, 2022, and it was developed by Lucas Hale. As such, it is classified as a System utility. It supports Windows and comes in an English version.
Intuitive Setup of Hotkeys
Having a set of custom hotkeys ready to go will make your program that much more powerful. You can easily modify the default settings and use shortcut keys to operate the stopwatch timer by simply going to the options menu. The app's preferences allow you to customize the shortcut keys you use.
Improved Gaming Experience
You can change the timer's default resolution to anything you like with this small software. Online games like Fortnite, which are difficult to play with the standard resolution timer, will benefit from this change. You won't have to worry about latency or a decrease in frames per second, two common gripes among gamers. Using the tool in-game is completely possible, and when you're done, you can simply exit it and return to the game's usual settings.
Users Feedback and Testimonials
The gadget is a godsend for those of us who want to play games at higher resolutions but can't seem to nail down the frame rate at which we want to play them. Low framerates (fps) can be a huge hindrance for players using older or less powerful computers. Newer, more complex games sometimes have higher resolutions, making it difficult for older computers with lower processing power to run them. Good news for those who really could benefit from it, this product is designed to address that issue.

———-

Some commentary on the concept of "Timer Resolution" When setting a specific event to occur at some point in the future, the default Window timer is typically set between 10 and 25 ms. Therefore, Timer Resolution was made for programmers who wanted to make their windows' timers variable. This convenient program can be adjusted while it's open and will remember the last setting when it's closed. The price of the program ranges from zero to ten dollars, depending on the edition. Advantages: – Improve gaming frame rates (FPS) (maybe not work with all games) It's cheap and definitely worth a shot; it's easy to set up and use; it's fully compatible with the Windows operating system; the preset resolution no longer makes annoying cracking or crunching noises, and it costs very little. Background music is highly recommended for all sessions and works well with the program. DPC latency could be affected, and a bit of shift could occur, so a backup should be created before installation.

———-

My computer's clocks are now more precise thanks to this program. A few clicks of the mouse and badabing badaboom, it was working perfectly. I think this program is a must-have for everyone who values the timeliness and precision of their computer. Didn't cost anything to put in!

———-

As the frequency of a clock grows, the amount of power it uses does too, therefore a higher timer resolution is fantastic for extending the battery life of a Windows laptop.

———-

At first I didn't believe Timer Resolution for Windows would make a difference, but after using it for a while, I can state with confidence that it does. I've just recently started playing competitively, and with my inexperience and poor aim, I was finding it difficult to win any games. Once I installed Timer Resolution for Windows, I noticed a substantial improvement in my precision. Anyone who is serious about competing in video games should definitely check this out.

———-

You can use this software for the game, and it's free if you're running Windows 7 or later. However, because it modifies the resolution of the window's default timer, you shouldn't anticipate the result to be as you'd expect.

———-

The Windows program Timer Resolution is useful if you want to change the timer's resolution. It's likely that you're already aware that the 10–25 ms range represents your computer's default timer. The smaller and more precise the Timer Resolution, the more accurate your timekeeping will be. This will provide you with improved precision, which is just what you need for gaming.

———-

Once upon a time, this application was one of the most beautiful and straightforward out there. that served me well for a long period of time. Someone had the bright idea to play around with the user interface. Why? What part of "don't fix what ain't broken" doesn't make sense to you? And now we have an app with hideous typefaces, huge, clumsy buttons that don't respond very well, and a deteriorated user interface. It would be helpful if there was a way to revert to the previous user interface.

———-

This program is awesome in my opinion. It works well with background music, is cheap, and has excellent compatibility with the Windows operating system. One of its flaws is that it will inevitably lead to significant disruption, so be careful to make copies of all of your important data before you make any changes.

———-

Timer Resolution for Windows is great since it allows me to easily adjust the timer resolution on my PC. I'm able to improve my gaming performance and have a more satisfying experience with whatever game I play on a computer or gaming console.

———-

For those who play PC games, I highly recommend Timer Resolution. You may optimize your game experience by changing the screen resolution with this software. In most cases, the image quality becomes grainy, blurry, and a whole pain since the frames per second (FPS) aren't quick enough. The problem is easily solved with Timer Resolution. Improved frames per second (FPS) are possible by modifying the game's factory settings. This improves the quality of your screen so you can play games without interruption. I would highly recommend this product to anyone who has experienced subpar visuals when playing a video game.

———-

In general, the software works well and is simple to operate.

———-

It's a fantastic resource, and I say that as a gamer who loves to play for hours at a time. You'll get better frames-per-second (FPS) in games thanks to a change in the resolution of the system's default timer, and latency will be reduced as a bonus. Considering these two factors, it was an easy decision to purchase this software; so far, I haven't been let down.

———-

Using this program, I was able to address a problem I hadn't even realized existed. As a gamer, I need my computer to run at its peak, so any optimizations I can do are a need. With this program, I was able to customize my computer's display timer to a higher or lower resolution. My FPS and ping have greatly increased since I implemented this fix. Every gamer should have this program.

———-

Timer Resolution for Windows is a great tool since it allows you to change the resolution of the timer on your computer from the standard setting to something more suitable for gaming. When I'm playing against other people, I find that this is the perfect little tactic to give me the upper hand.

windowstan.com
How to use Timer Resolution on Windows
You can get the accuracy you need in your game by adjusting the Timer Resolution. As soon as you turn it off, the default timer will revert to its previous setting, which was not a global timer resolution. Time can be measured in milliseconds, seconds, minutes, and hours in our Windows stopwatch. This means that the most powerful processor also provides the highest degree of precision. Restart the program and double-check the executive file's permissions if its hotkeys stop responding after that. The timer also has a pause button.
To change the default setting, use the instructions provided.
The Timer Resolution download can begin as soon as Windows 10 is launched.
When downloading is finished, open the "downloads" folder and double-click the.exe file to begin the installation.
To increase the default value of 15ms, use the 'Maximum' button.
It will boost frames per second and get rid of any micro stutter.
Conclusion
Overall, Timer Resolution is most useful for players who want to alter the default timer's resolution in order to achieve a marginal frame rate boost.
The timer can be started, stopped, and round time can be defined. A high-precision Windows stopwatch timer, capable of producing 1ms timers.
When playing games that call for pinpoint accuracy and lightning-quick reflexes, you'll appreciate this tool much.
If you're a player who wants to increase your FPS by optimizing the default timeframe, this is your best bet.
A 1 ms timer is readily within reach of the ideal timer with great precision. If you want to increase your game's precision and response time, give this software a try. Keep in mind, though, that the program is technically advanced, so you can only use it if you're already comfortable playing at a high quality. Watching a tutorial before firing up your gadget or game is a good idea.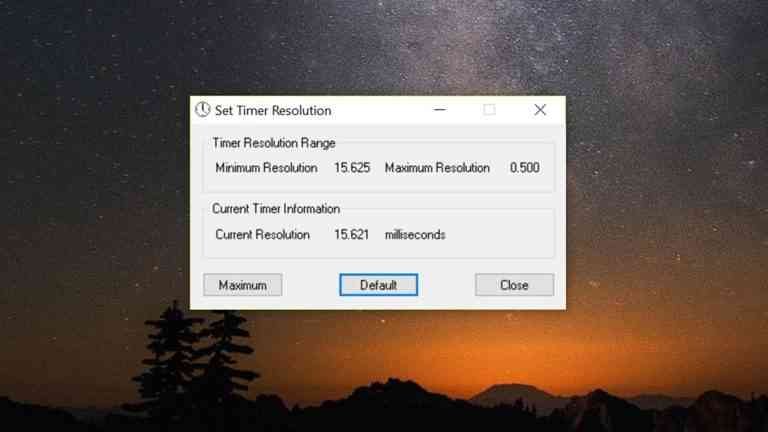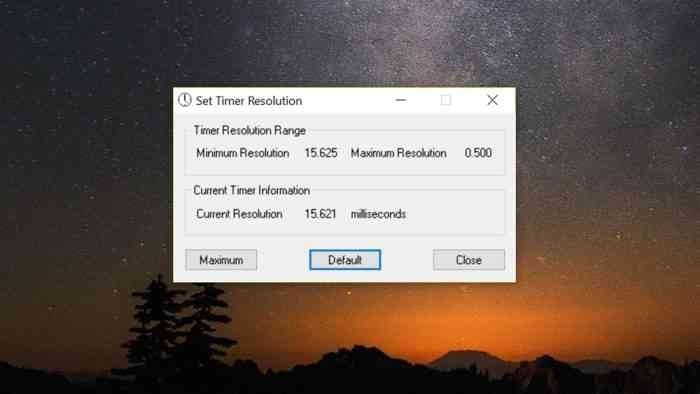 Timer Resolution FAQs
What does "Timer Resolution" mean?
It's an application for Windows that alters the timer's default settings. Timer settings in Windows XP can be adjusted between 10 and 25 ms. So, if your code utilizes a timer or sleep number that is lower than the timer resolution on your system, you will see unexpected behavior.
While the app is open, the timer resolution will be adjusted worldwide; when the app is dismissed, it will revert to its prior setting. In a nutshell, it plays with the frame rate and prevents decreases in performance.
How do I acquire Timer Resolution?
It's as easy as clicking the "Download" button.
How to adjust the frame rate in Timer Resolution?
When you first launch the application after downloading it, a popup will appear with the required FPS in milliseconds. You should go ahead and use the maximum setting. Done!
Is it possible to get kicked out for trying to beat the clock?
What happens is entirely subject to the Game's rules.
These are a few of the terms and conditions that govern the widespread use of the game:
Users are restricted to individual use of the Game. Users are not allowed to engage in any activities that might be considered manipulation of the Game or the use of technical tools designed to provide Users an unfair competitive advantage. In particular, Users are not allowed to create or use cheats, mods, or other similar tools that alter the game's behavior or experience without the express permission of the game's developers. This includes software that plays the game on the user's behalf (such as scripts or bots), measures that may cause an unreasonable or excessive load on technical capacities, measures that block, override, or modify content, and tools that otherwise interfere with the Website or the Game.
Download Timer Resolution
It only takes a few seconds to adjust the Windows timer resolution with Timer Resolution, and the resulting boost in frame rate is noticeable in your favorite games.
| | |
| --- | --- |
| File Name | TimerResolution.exe |
| Version | 1.2 (Last free version) |
| Size | 6.5 Kb (approx) |
| Supported in | Windows XP / Vista / Windows 7 / Windows 8 / Windows 10 / Windows 11 |
| Developer | Lucas Hale |