Last Updated on September 26, 2023 by Rizwan
When downloading video-on-demand files from the widely-used live-streaming website Twitch, the innovative video download manager Twitch Leecher can give instant access to users of any experience level.
Twitch Leecher – First Look
Utilize Twitch Leecher, a straightforward program that will assist you in downloading a large number of VOD files quickly and securely in compiling a library of videos from your preferred streamers on your personal computer.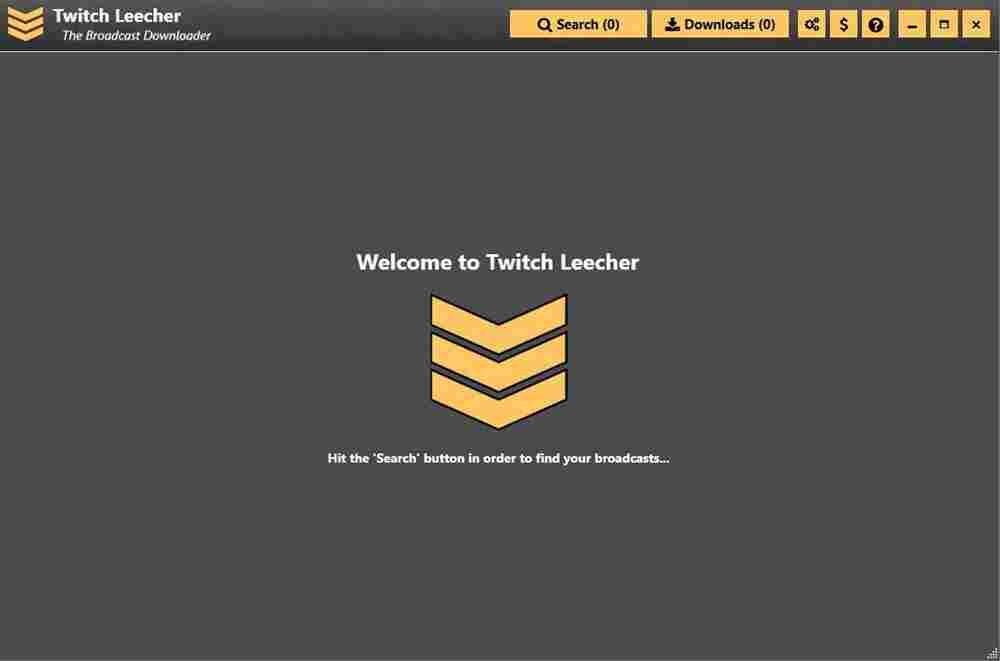 Currently, most Twitch users will use the service primarily to view streams. Streaming videos can be viewed quickly and effortlessly. However, many channels are now creating video-on-demand files that users and subscribers can grab whenever they like.
| | |
| --- | --- |
| Version | 2.0.7 |
| File Size | 128 MB |
| Languages | English, Italian, French, Spanish, Polish, Chinese, German, Japanese |
| License | Free |
| Developer | Dominik Rebitzer |
There may be bonus material in these files that aren't included in the mainstream.
In addition, Twitch Leecher makes it simple to obtain and store these video-on-demand files.
You can download as many files as you like of almost any type with the help of this tool, and the process is risk-free and quick.
It's also possible to download videos of varying lengths, allowing you to watch your favorites even when you don't have an internet connection.
Save Twitch Videos for Offline Viewing
The first time you want to use Twitch Leecher, you must set it up on your computer. Thankfully, setting up is a breeze. The installer is delivered in a compact archive, and all you have to do to get started is extract the archive, then run the installer. Once you have that, you must follow the on-screen prompts to finish the installation.
Then, you'll notice that the primary interface window is where you'll manage and search for your most-watched VOD files.
The search results page displays additional data and information about the VODs, including the title, game, recording time, quality, and other minor specifics.
Choose Your Target Direction
Choose your video on demand and save it to any device. A video can be shortened and saved in less space by being cropped.
Twitch Leecher Review
When downloading video-on-demand files from the widely-used live-streaming website Twitch, the innovative video download manager Twitch Leecher can give instant access to users of any experience level.
This app has tools for downloading cached VODs quickly and reliably of any size or duration, so users can download as many shows as they like from their favorite streamers, build a library of exclusive content that won't be found on the Twitch website, and watch massive, globally-viewed live events, tournaments, and competitions without being connected to the internet.
Thanks to a well-designed user interface, an integrated search feature, detailed log records, and a capable download manager that lets you download only the segments of online VODs you want to watch, it can do all that.
The official app installer for Twitch Leecher is less than 30 MB in size, so it can easily be downloaded and activated on any desktop or laptop PC. After you follow the on-screen prompts, the installation takes only a few seconds.
The primary menu is divided into a sizable video-on-demand listing area and four primary tools (Search, Downloads, Twitch Authorization, and Settings) at the top. A wealth of additional information, including Name, Game, Length, Recording Time, and Quality, is displayed alongside the list of VODS that have been discovered, along with two control options on the far right of each discovered VODS: Watch on Twitch and Download.
Users can customize their VOD experience by selecting playback options like video quality, download location, and the ability to trim the video to a specific start and end time. There are no limits on the size of VODs, and downloads can be made singly or in bulk.
Even those who aren't tech-savvy will have no trouble navigating the interface and selecting and downloading their preferred Twitch VODs. The app cannot be minimized to the system tray, so it must remain on the Desktop taskbar even as the computer downloads the video, which could take quite some time.
Free and fully compatible with Windows 10, 8, 7, and Vista, Twitch Leecher is a great addition to your Windows software arsenal.
Twitch Leecher Features
Here are some sparkling features of Twitch Leecher:
Easy to use; no instructions are necessary.
Easy-to-navigate, aesthetically pleasing user interface
FFMPEG can increase download speeds by up to 20 compared to direct download.
Use the app to look through your past shows and favorite moments.
Keywords, video-on-demand (VOD) addresses, and VIDs
VOD downloads are available to subscribers only.
When to Download Video on Demand
Put several downloads in a queue.
Choose your default search options here.
Downloads will be saved in the locations you designate.
Create a wildcard-supported filename template for your downloads.
Created by a seasoned computer programmer.
Without cost or restriction
Twitch Leecher Installation
Here is how to install Twitch Leecher on Windows.
Download Twitch Leecher.
Run the downloaded file (installer)
On the welcome screen, press Next.
Accept the EULA by c/imagehecking the box and press the Next button.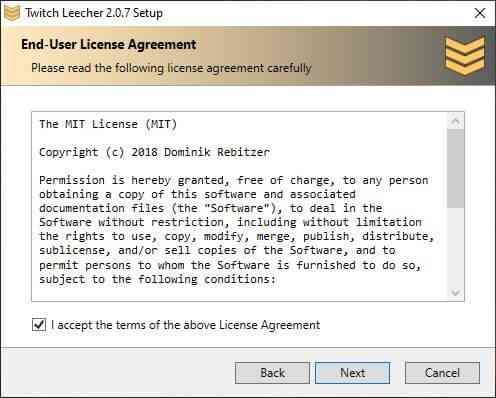 Choose a destination folder where Twitch Leecher will install, and press the Next button.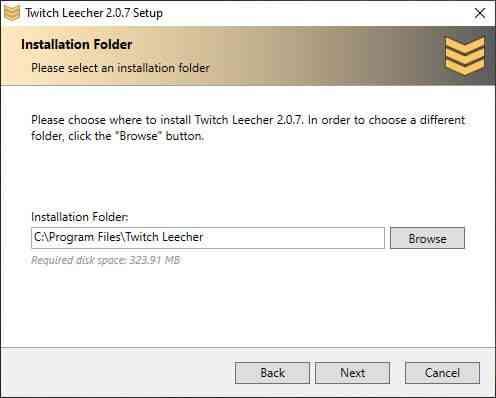 Now press the install button to start the installation
The installation will start.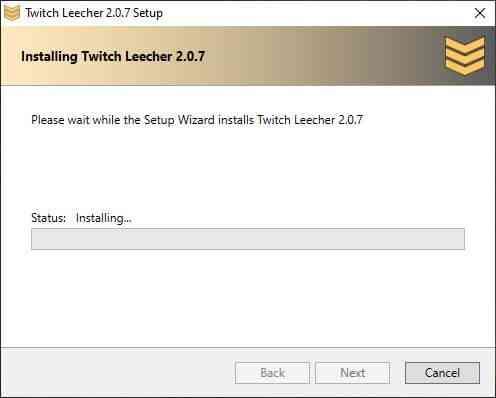 Wait for a while for the installation to complete.
When finished, press the Finish button.
Now run Twitch Leecher, and you will see the first main screen asking you to log in to Twitch.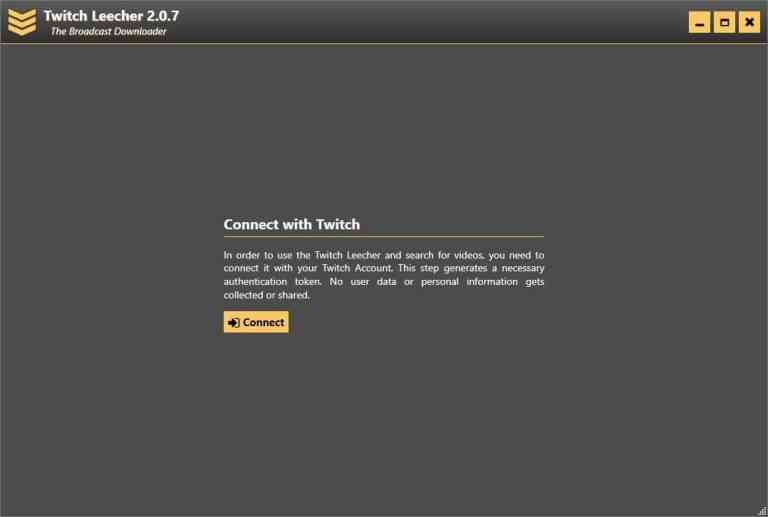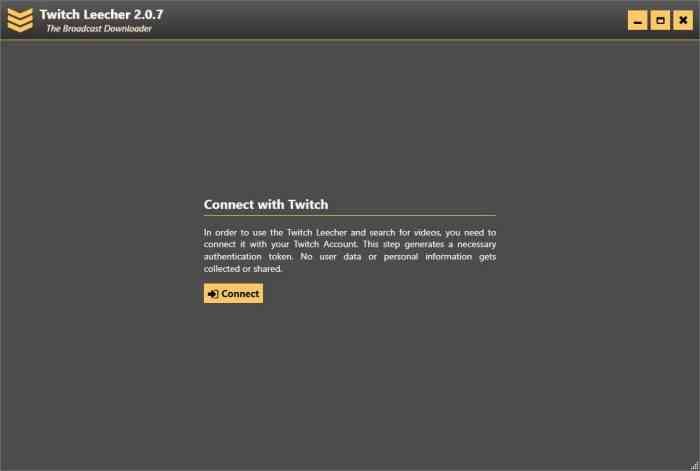 Enter your Twitch account credentials and log in.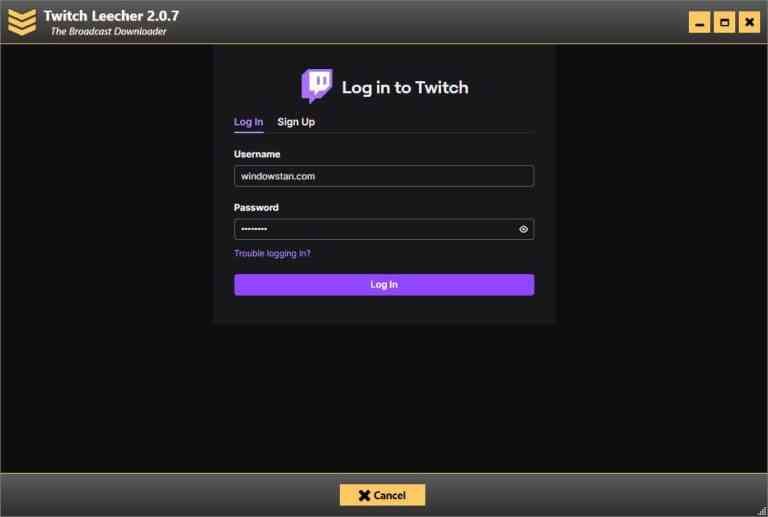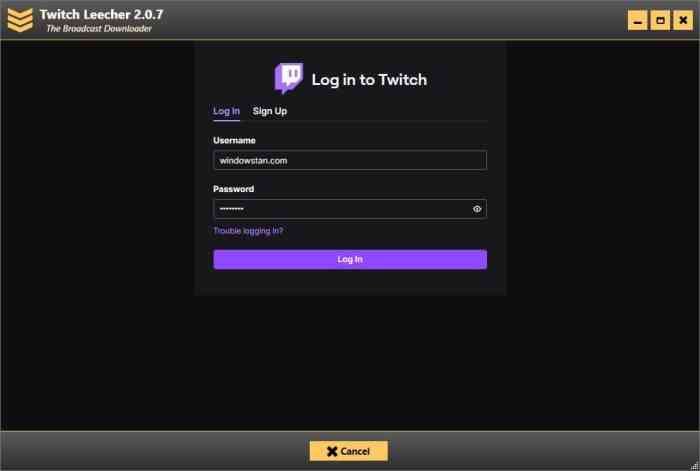 After a successful login, you can start using Twitch Leecher on Windows.
Conclusion
With Twitch Leecher, you can save video-on-demand files to your computer and watch them whenever you like, even when you don't have access to the Internet.
Twitch Leecher Free Download
Here is Twitch Leecher direct download link for the full offline installer setup file.
Download Twitch Leecher (128 MB)
Important: The.NET Framework is required to install Twitch Leecher and run it.