Last Updated on September 26, 2023 by Rizwan
Description: You may need free cloning software on Windows 10 to move data from one disk to another. Here, you will know what is suitable for you best.
Keywords: free cloning software windows 10, best free cloning software windows 10, clone hard disk free software download
Summary: Free cloning software on Windows 10 is essential for users who need to transfer data from one disk to another without reinstalling. Refer this post to learn more information.
Why we need a free cloning software on Windows 10?
In today's digital age, more and more people are becoming concerned about data backup and recovery, especially when using computers. For some reason, we may need to clone our hard disk or system to backup important data or transfer them to a new computer. And there are many professional cloning software available in the Windows operating system.
However, some professional cloning software may cost users a lot of money. For those users who don't want to pay for cloning software, there is much free cloning software available, especially in Windows 10 operating system. In this article, we will introduce you to free cloning software that offers very convenient cloning features that can meet the needs of different users. Whether you need to backup your entire hard drive, your system, or a single partition, it can help you get the job done quickly and efficiently.
What is the best free cloning software on Windows 10?
First, let's understand what cloning software is. Cloning software is a type of software that can copy a disk or a system, allowing you to create identical backups. It makes it very easy to transfer all your data, settings, and applications to a new hardware or system. Now, let's take a look at the free cloning software available in the Windows 10 operating system.
AOMEI Partition Assistant Standard is a powerful free partition manager which can clone disks or partitions to another drive without data loss. Its manufacturer has been established for 15 years and has gained the trust of many users. It is very popular in the market. Compared to other cloning software, it has these advantages:
Functionality: Two types of cloning are offered: Clone Disk Quickly and Sector-by-Sector Cloning. The former clones only the used sectors of the disk, while the latter clone the entire disk, including unused sectors, to a new location.
Compatibility: supports Windows 11, 10, 8, 7, Vista, and XP systems and is compatible with NTFS, FAT32, or other file systems.
Security: safe download without any bundled software; no malicious ads pop up during use; each operation needs to be submitted to be generated; 100% data security protection
Easy to use: graphical user interface for inexperienced computer beginners; each operation follows step-by-step instructions, making the whole process more intuitive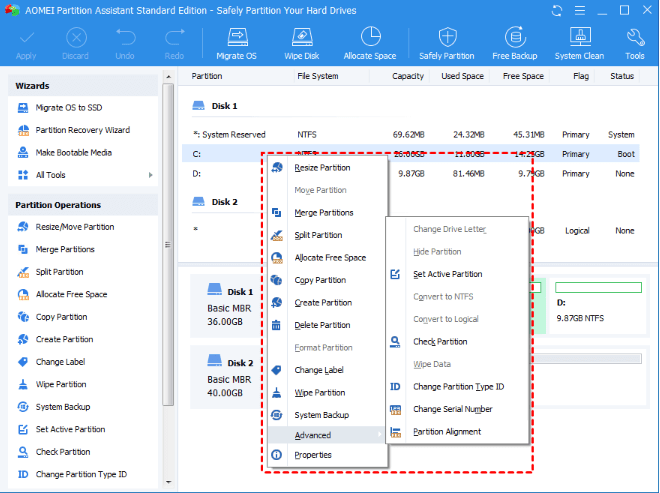 As you can see, the interface of this software is very clear and contains a lot of embedded functions. Besides cloning disks, you can use it to merge/resize/delete partitions, convert MBR to GPT, disk formatter, wipe disks, PC cleaner, and more. After upgrading to AOMEI Partition Assistant Professional, it supports cloning system disk from MBR/GPT disk to MBR/GPT disk, and you can even try other advanced features which can help you manage your disks in a more flexible and efficient way.
If you want to clone SSD to larger SSD, you can click "All Tools" and "Disk Clone Wizard" on the main interface. Then, follow the step-by-step instructions to complete each step. Before you start, don't forget to connect the drive to your Windows 10 PC and make sure it is detected.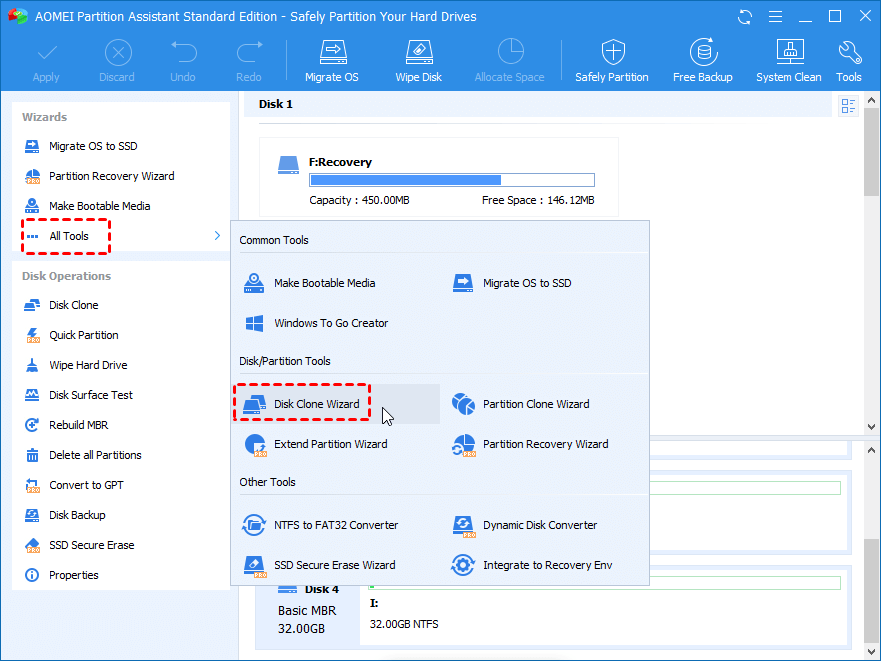 Conclusion
This is the full review of AOMEI Partition Assistant Standard, a free cloning software on Windows 10. After reading this article, I'm sure you already have some idea about it. If you are a newbie who wants to perform disk cloning, then it is the right choice for you.
For those who don't want to use third-party software. You can also use the System Image Backup that comes with Windows 10. It is capable of backing up your entire system or system partition and can save the backup to a local disk or a network location.
In short, backup and cloning are important steps to keep your data safe. Both AOMEI Partition Assistant and System Image Backup are perfect for performing these tasks on Windows 10. Remember to choose the best free cloning software according to your specific needs, and back up your computer system regularly to ensure data security.