Last Updated on September 29, 2023 by Rizwan
Download Format Factory – Windows 10 version Free | Latest Format Factory for Windows 10 (64 bit/32 bit)
Overview
Format Factory for Windows 10 Description
Download Latest version of Format Factory for Windows 10, 7, 8/8.1 (64 BIT/32 BIT) with the official direct download link with offline installer standalone setup. This direct link allows high speed fastest full bandwidth download of Format Factory (64 bit & 32 bit).
The best free audio and video converter for Windows 10 is here! Winner for years and effectively updated. It can convert your audio or video to almost any format available so far.
Format Factory Review
Format Factory is a versatile video, audio and photo converter. It supports a vast range of formats for ripping and encoding.
It allows you to choose one or more files to convert in a queue. Folders containing files can also be added. A reasonable variety of device presets are available to choose.
Devices preset include tablets, Android phones, Nokia phones, iPad, iPod, iPhone and Blackberry. There are different device models available and you can choose an appropriate device and model.
Here are some core features of Format Factory:
Huge Variety of Formats
Format Factory supports a wide variety of formats including audio, video and images.
Video and Audio Settings
Format Factory lets you configure encoding settings. Output settings are mainly divided into three categories; low, medium and high-quality output. You can further customize the output settings. These are advanced settings and you should play with care.
These are divided into video and audio settings separately. Video stream settings include parameters such as video encode type, video size (in pixels), bitrate (in KBs), frames per second, aspect ratio and encode to pass. Audio stream settings consist of audio encode type, audio output sample rate, bitrate (in KBs), audio channel, enable/disable audio, volume control and stream index.
Custom Subtitles
Subtitles can be added by importing subtitles files, type, font size (according to video size) and stream index.
Image Watermark
You can add image watermarks to video files by defining an image, watermark position and margins. It is a nice feature if you want to add copyright marks or company logo to those videos that you recorded yourself. Watermark helps you protect your effort from unauthorized use of somebody else with their name.
Advanced Options
There are further advanced settings that you can use to rotate, mirror and de-interlace the video files. These options allow you to adjust the output video in a more personalized form.
Command-Line Supported
Format Factory also supports command-line. You can use command-line to convert files if you find it suitable.
Multilanguage Support
At the moment, Format Factory supports about 60 different languages.
Format Factory Extra Components (New update)
The Format factory is no more just a standalone media converter application, but a pack of media solution covering record, convert and play your media.
A new media player
Surprisingly, I installed Format Factory after a long time and it was pleasant to see the new interface. The latest version has some extra components which I discovered when I found Format Player in open with the menu of a video file.
At first, I thought that this is due to the new update of Windows 10, Microsoft has also introduced a new media player. But then I realized that Microsoft didn't say anything about this player at all.
The name of the media player was "format player"، surprisingly. However, its visual style was very similar to the original media player of Windows 10. I thought there must be something confusing.
I started to find out where this unique video player came from. As soon as I typed the "format player" in the Windows search bar, it appeared in the group of format factory. For a moment I found myself stunned and amazed.
I have been taking this format factory program so lightly. I think it was just a great but free software for video converting, and nothing more. But my amazement was still growing because a new discovery was on the way.
An exciting screen recorder
When I find out the program location in the Start menu to confirm that the format player is really offered by the format factory, I see that there is another program besides these two which is a desktop video capture and Made for recording.
I quickly opened this screen recording program and it was a very professional level screen recording software. It contained everything that is available in a state-of-the-art screen recording software, such as Camtasia screen recorder.
Format Factory is no longer just a video converter but also provides everything from desktop video recording to video converting and ultimately a video player.

You do not have to work hard to get these new components and you do not have to download anything separately. You just need to download the format factory installer, all these components will install on your computer automatically.

Windowstan.com
How to use Format Factory?
Let's see how to download, install and use this media converter on Windows.
How to download
Find and press the download button on the same page. The download file size is approximately 95MB, however, the file size may change with new updated versions.
How to install
Just like other Windows utility software, the installation is simple. Launch, next, next, install, finish, etc. You do not need to have Pro IT or technical experience of computing for installing this media converter.
Here are two options: first, either watch the video tutorial or read below the step by step detailed installation guide; or even watch both for better understanding all aspects clearly.
[VIDEO] How to install Format Factory on Microsoft Windows OS
Besides the video, here is the detailed installation guide:
Run the Format Factory setup. The setup file usually has a name something like FFSetup.exe with the version number.

Select "Yes" if UAC (User Access Control) dialog box appears for asking permission to run.
Accept EULA (End User License Agreement)

The next screen will show you some information:


The destination folder for installation. The default location is:
C:\Program Files\FormatFactory [for 64-bit installer]
C:\Program Files (x86)FormatFactory [for 32-bit installer]
Space required
Space available

Usually, there is no need to change anything. Just click the Install button and installation will start.

The installation process can take a few minutes, maybe more than you expect. So, please wait with patience.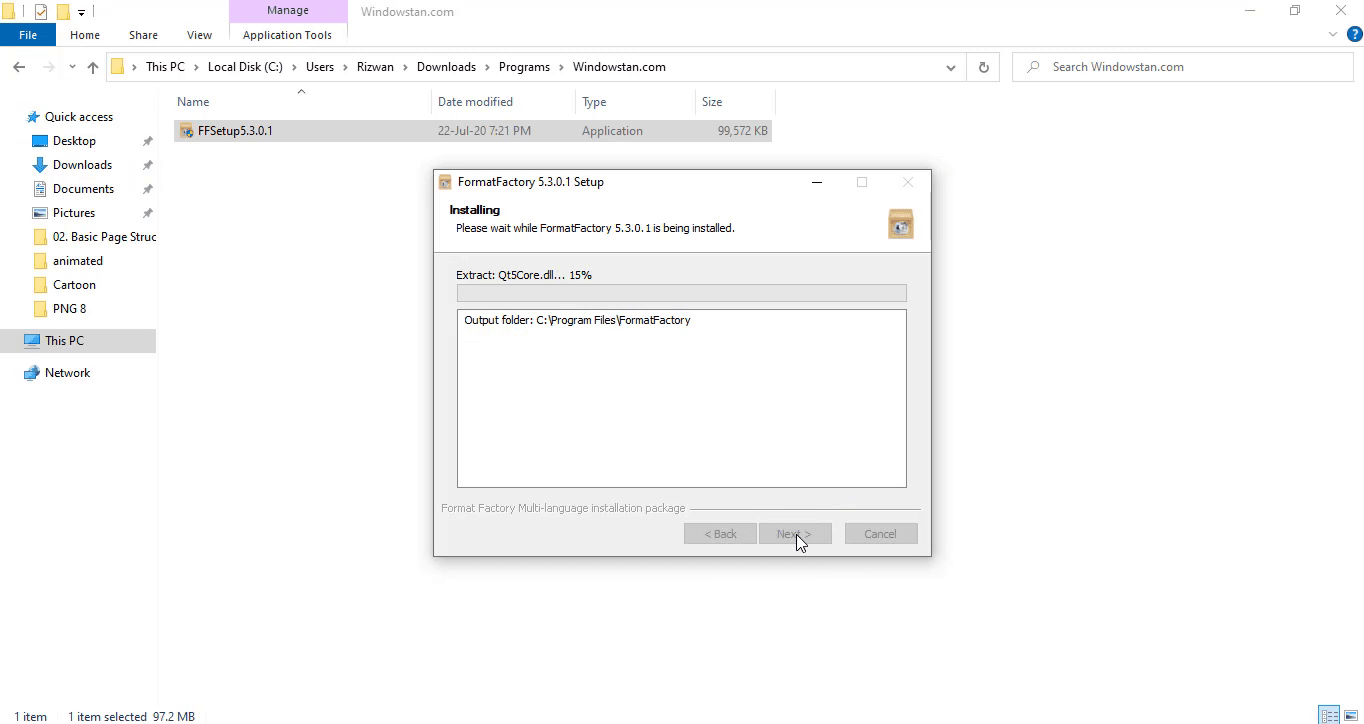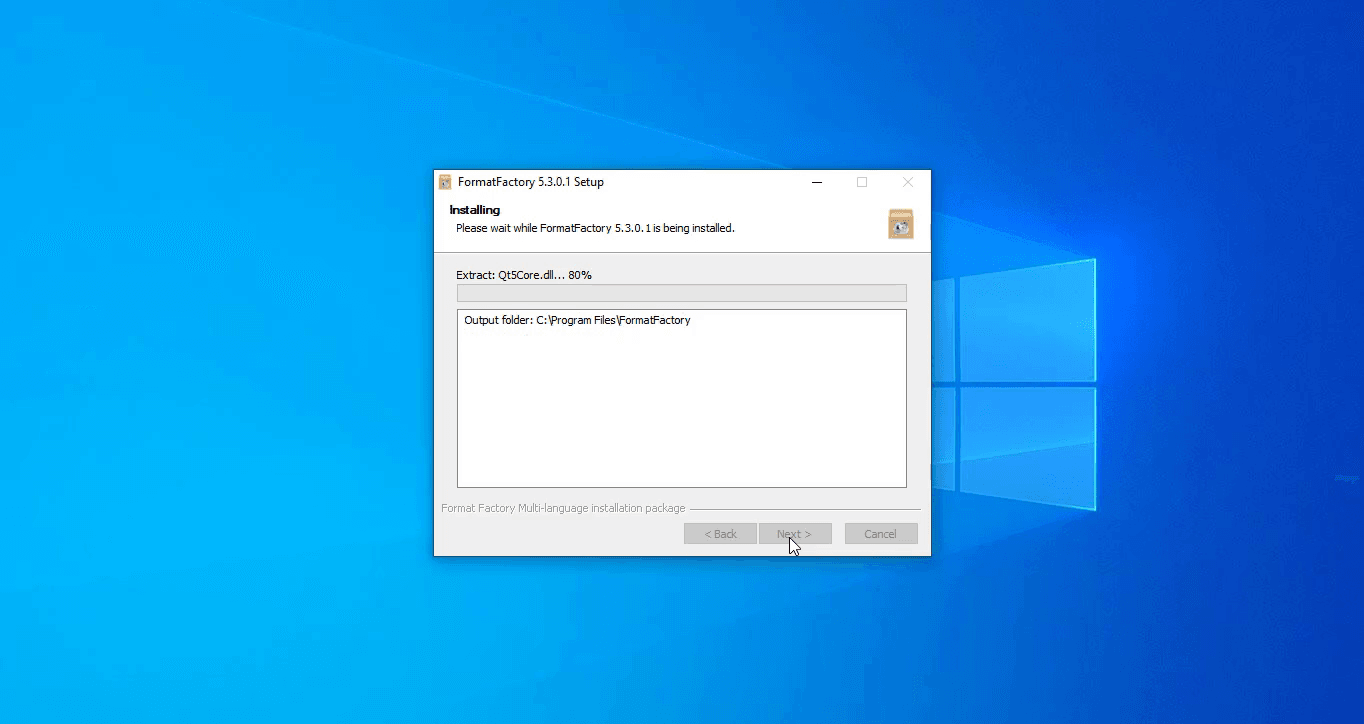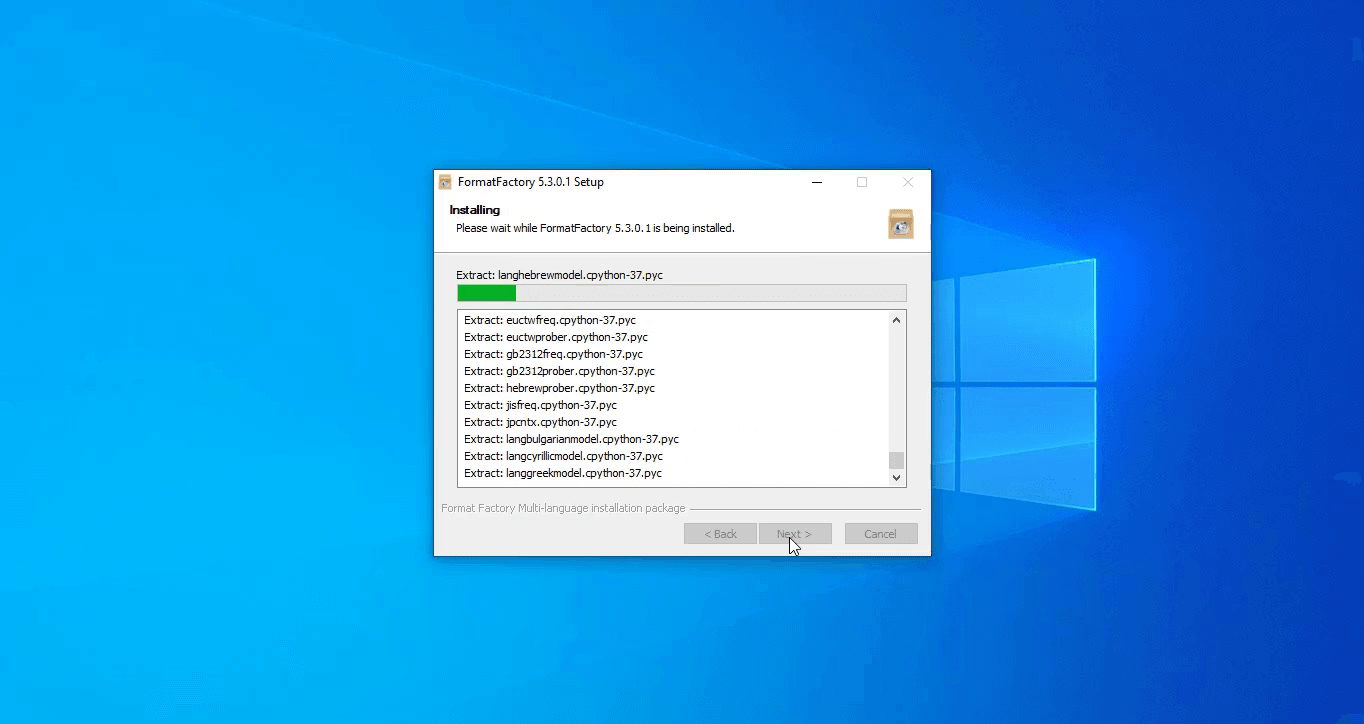 Once the installation is over, the installation complete dialog box will open. It has a checkbox with label Run Format Factory.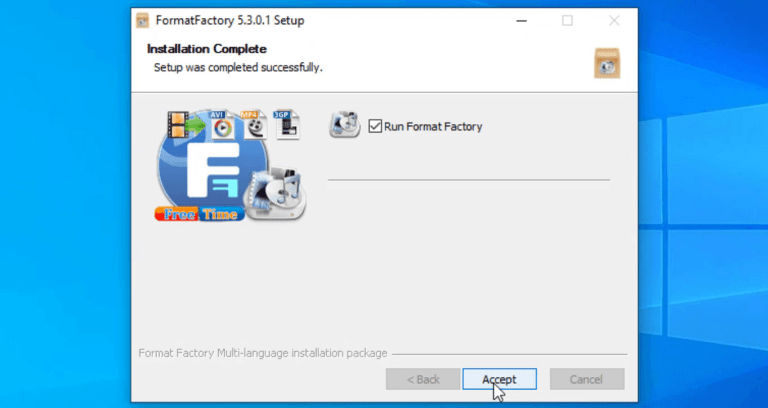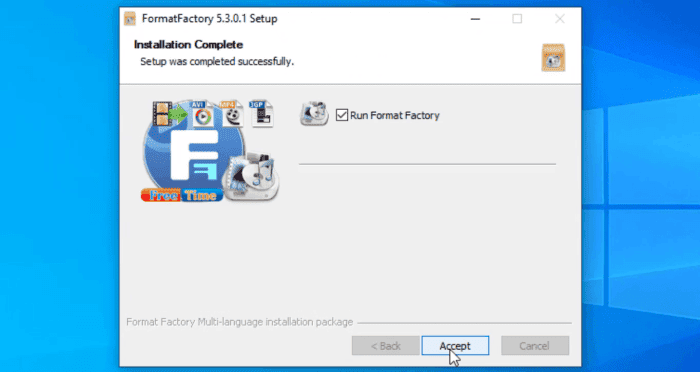 Keep this option checked if you want to start the program just after you press the Accept or finish button.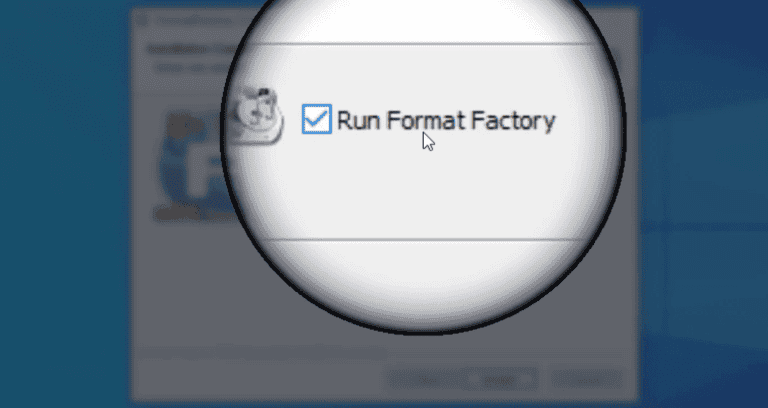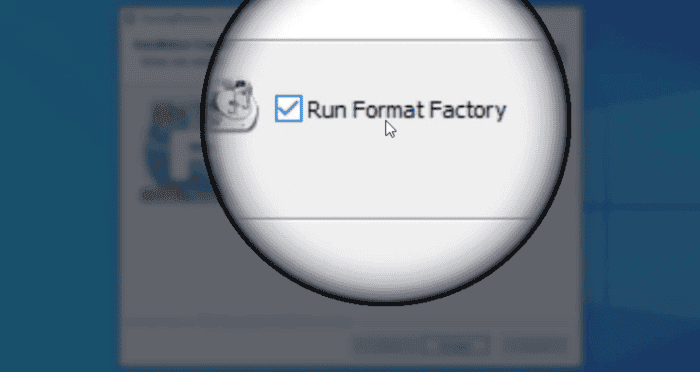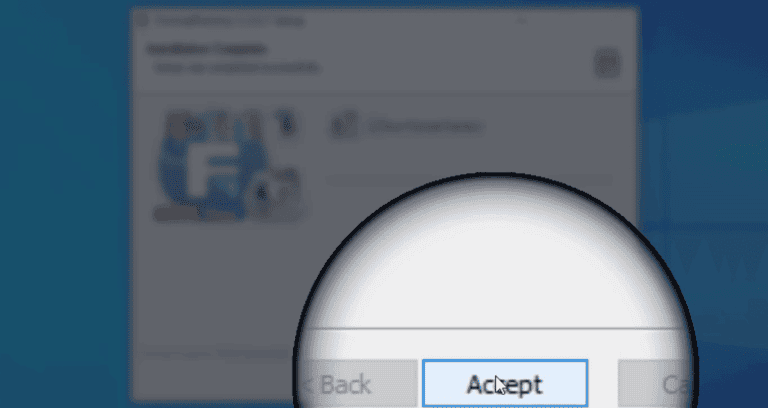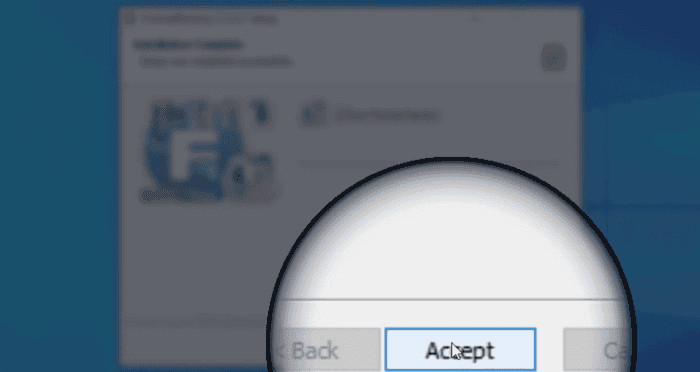 The program will launch automatically. Alternatively, you can start the Format Factory from desktop shortcut or search from Start menu.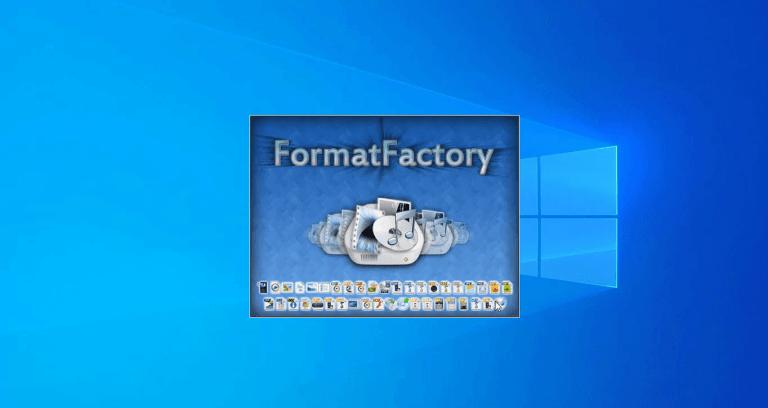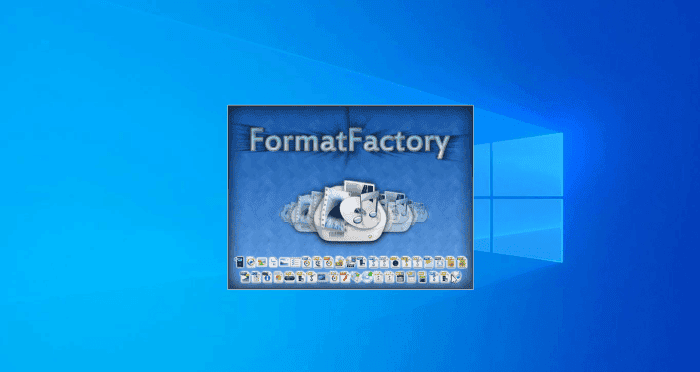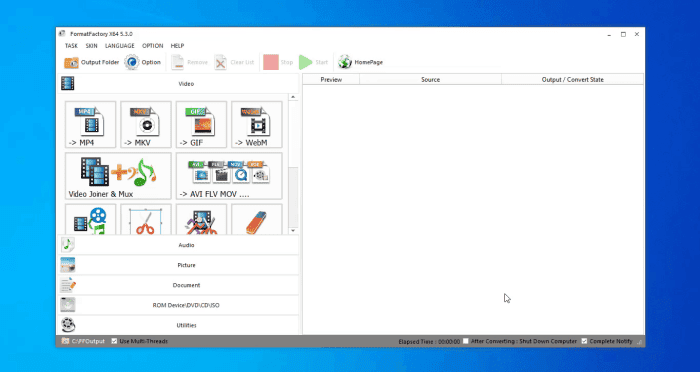 If you find any problem during installation, please do ask us about the issue and we will help you fix the problem.
Format Factory for Windows 10 (64 bit/32 bit)
Download Format Factory
Free Download Format Factory for Windows 10 for free without any hassle!