Last Updated on January 27, 2023 by Rizwan
Download Affinity Photo – Windows 10 version Free | Latest Affinity Photo for Windows 10 (64 bit/32 bit)
Overview
Affinity Photo for Windows 10 Description
Download Latest version of Affinity Photo for Windows 10, 7, 8/8.1 (64 BIT/32 BIT) with the official direct download link with offline installer standalone setup. This direct link allows high speed fastest full bandwidth download of Affinity Photo (64 bit & 32 bit).
Serif Affinity Photo for Windows is available now for free download (trial). It's not only Photoshop alternative but very similar. It might seem like a clone of Adobe Photoshop.
Affinity Photo Review
Affinity Photo is top and best Adobe Photoshop alternative for Windows 10, Windows 7, 8x and earlier versions. Besides alternatives to Photoshop, it is probably more comprehensively designed, especially for photographers and professionals.
Serif Affinity Photo seems to design on solid basis for easy to understand language. Tools and adjustments are named much human friendly (where possible) rather than technical jargon.
The most remarkable UI element is colorful tools in toolbox. It might or might not be good visual assist for some people. Generally it makes more sense to find and recognize colorful tools rather than outlined shapes. However, it really depends on personal abilities and moods.
Suggestion: Download Photoshine Mini for Windows
Being honest, Affinity Photo is nearly a perfect Adobe Photoshop mock-up. And it makes sense; as this is aimed to be the best Adobe Photoshop alternative. I think this approach is not bad because it satisfies users who want like Photoshop but looking for an affordable and cheaper alternative software.
Try : Photoscape for Windows Free Download
There are some big players in this game too, like Corel Photo Paint, GIMP, Paint.NET etc. These might have their own identity and powerful features that are missing in Photoshop but these have different UI design as well; which turns off most users. Nobody likes to learn another software for editing photos.
Related: Download Picasa for Windows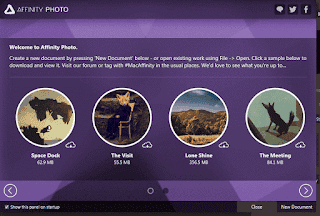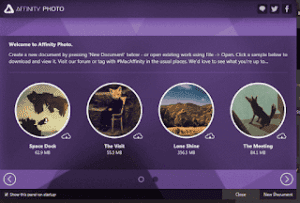 Affinity Photo for Windows Features
Adobe Photoshop like look and feel
Stacked layers
Adjustment panel
Light on system resources as compared to Adobe Photoshop
No monthly subscription fees, just one time payment
Software updates
RAW image support
Keyboards shortcuts and hotkeys supported
Pre-defined Color profiles
Crop tool presets
Panorama effect
Liquify filter
Easier Undo/Redo hotkeys
Batch process for multiple file processing
Precise selection with refinement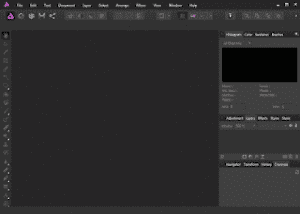 Download Affinity Photo for Windows 10 (64 bit/32 bit)