Last Updated on September 26, 2023 by Rizwan
Windows 10 ISO download tool is finally here for our friends. This tool is just a standalone executable file that will help you download any version of Windows 10 and Windows 8.1 straight from Microsoft official servers. What could be a better alternative than that?
What is Windowstan's ISO download tool?
This tool is just a simple utility program that helps to download almost all versions of Windows 10 and Windows 8.1 from Microsoft official servers.
For geeks information, this tool is actually a script. We tried the script but found that it fails to load various versions of Windows. There were workarounds to solve that issue but we don't want our friends struggling with errors and failures. That's why we prepared this tool which works perfectly on all versions of Windows in our testing. However, if you find any issue with this tool, feel free to contact us. We'll be proud to talk to you.
Features of ISO download tool
Very easy to use
Tiny file size
Step by step download guide to reach your desired ISO.
All versions of Windows 10
Almost all editions of Windows 10 Home/Pro and Education available.
ISOs are available in almost all languages.
64-bit (x64) and 32-bit (x86) ISO
Download via browser or internet download manager.
If your download manager (IDM, XDM, etc.) does not pick the download URL from the browser, you can go to browser downloads by pressing (CTRL+J) keys, copy the download URL and paste the URL in your favorite internet download manager.
Why Prefer Windows 10 ISO download tool?
You may have found various other tools that do the same job of downloading Windows ISO from official servers. We have tried them as well during our testing. But nearly all of those tools are either very slow, contain bloatware, ads supported, or fail to run at all.
Windowstan's Windows ISO download tool is very small in size and portable. It is just a neat and clean tool that contains nothing more than the user-friendly environment to get you to your desired Windows ISO without any distractions. A step by step guide will make your way throughout the download start process.
How to use the Windows ISO downloader?
This tool is really easy to run and use. All you need is just download this tool from the Windowstan website and run it.
No installation is required because this is a portable program. Just run this tool, wait a few seconds and the download window will appear.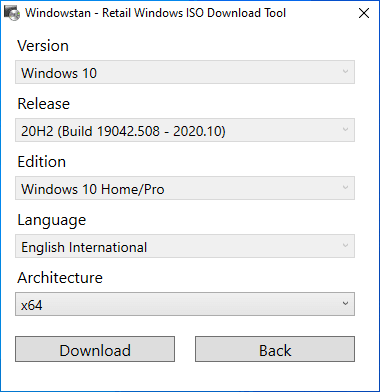 Thought, the steps are quite straightforward, here is a brief description of each.
Version: Select the version of Windows you want to download (Windows 10 or Windows 8.1)
Release: Select the release, such as Windows 10 (1507, 1511, 1607, 1703, 1709, 1803, 1809, 1903, 1909, 2004, 2009, etc.)
Edition: Edition of Windows, such as Home/Pro, Education, etc.
Language: Select the language of Windows ISO.
Architecture: Choose either you want to download x64 (64-bit) ISO or x86 (32-bit) ISO file.
After this, press the Download button. Your default browser will open automatically to start downloading the Windows ISO.
You may continue downloading in the web browser, but if you have installed a download manager (IDM, XDM, FDM, etc.), the download manager should pick the download link and start downloading the ISO file. However, if it does not grab the URL automatically, you can go to the browser download page by pressing (CTRL+J) keys, copy the URL address and paste it in the download manager.
Troubleshooting
If the program window does not appear after a few seconds, try to run the program as an administrator.
The antivirus may alert or block the program and warn you about it as a suspicious program. This is because the program runs a script in the background and nothing else to worry about. Just allow proceeding.
If the following error message appears about Internet Explorer, this might be due to the reason that you have never launched Internet Explorer since you installed Windows. To solve this issue, simply launch the Internet Explorer browser and accept the Express settings. Once done, the issue should have been resolved. See screenshot below.