Last Updated on September 26, 2023 by Rizwan
A workaround for the Windows 11 22H2 Microsoft Account requirement has been added to Rufus 3.19.
New Rufus 3.19 Beta can skip the need for a Microsoft account when making bootable discs for Windows 11 version 22H2.
Rufus 3.19 is available for download.
This version has some additional options as well.
Microsoft made internet access and a Microsoft Account (MSA) necessary for the installation of Windows 11 22H2 Insider releases earlier this year in May. One of our forum users later identified an easy way to install Windows 11 22H2 on a local account using OOBEBYPASSNRO, the workaround we described before.
As of the newest pre-release version 3.19 Beta of Rufus, a new option has been added enabling avoiding the necessary necessity for a Microsoft account (MSA) on Windows 11 22H2. This is part of Rufus' new Windows 11 setup customization selection dialog.
Additionally, a prior Rufus 3.18 Beta version included TPM and Secure Boot bypass options to the new dialog box.
The new Rufus 3.19 Beta has a changelog that explains these new features:
Customize Windows 11 installation by adding a new pick-and-click dialog box:
This dialog is now where Secure Boot and TPM bypass are located.
With Windows 11 22H2 it is also possible to avoid the requirement for a Microsoft account.
For the local account creation to be recommended, the network must be momentarily disconnected or unplugged.
Many more adjustments and improvements have been made in Rufus 3.19 Beta.
How to bypass Microsoft Account Requirement
Microsoft made an Internet connection and a Microsoft account (MSA) a prerequisite for installing Windows 11 insider builds, version 22H2, at the start of the year. Unfortunately, a workaround for OOBEBYPASSNRO was promptly discovered to install version 22H2 without an Internet connection and a Microsoft account.
If you don't have a Microsoft account, you can still use the Internet to install by entering a non-existent email address and a random password. Your attempt to connect will fail and an error message will tell you to use your local account instead.
Rufus, a well-known program for producing installation media, has now joined these approaches. Bootable media in Windows 11 version 22H2 can now be created without requiring a Microsoft account, thanks to the current preview version 3.19 Beta. Customize your Windows 11 installation in Rufus with this unique selection dialog.
Use Rufus to bypass Windows 11's installation restrictions
Download Rufus 3.19 Beta from this link.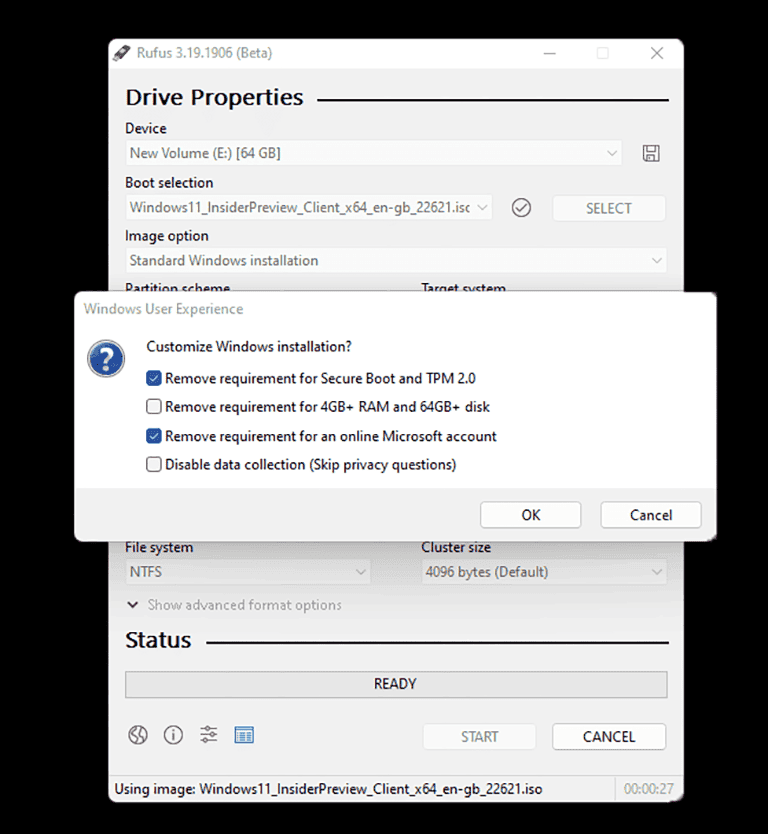 New features in Rufus 3.19:
Remove requirement for Secure Boot and TPM 2.0 – bypass Secure Boot and TPM 2.0 requirements.
Remove requirement for 4GB+ RAM and 64GB+ disk – bypass the minimum system requirements.
Remove requirement for an online Microsoft account – bypass the requirement of the Microsoft account.
Disable data collection (Skip privacy questions) – disable data collection.