Last Updated on September 26, 2023 by Rizwan
Things you will explore:
Windows 10 v21H1 was officially released to the stable channel on May 18, 2021.
Users dreaming of new exciting features are advised to put their expectations to the next release.
The good news is that Windows 10 2004 20H1 and 20H2 will have to consume a little data on the 20H1 upgrade.
Bad news: Windows 10 v1909 and prior versions will have to download the whole package (just like the full ISO file) to upgrade to the 21H1 version.
ISO file size: 5.8GB for 64-bit and 3.9GB for 32-bit.
Bonus: You can download full Windows 10 ISO (64-bit and 32-bit) using our Windows 10 ISO download tool.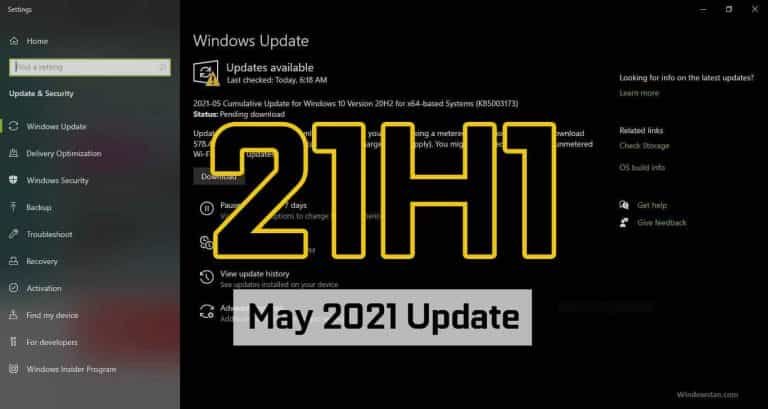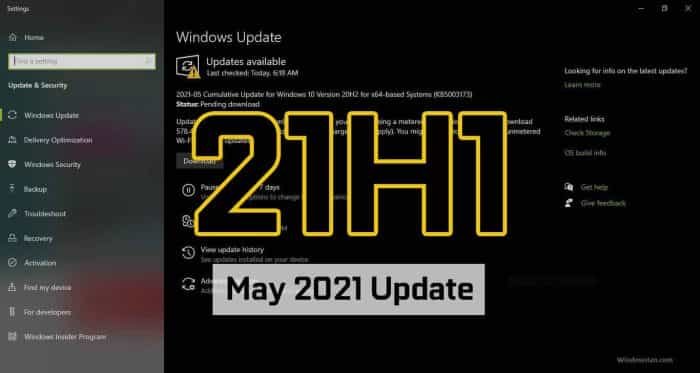 The wait is over. Windows 10 v21H1 is here on the stable channel. Windows 10 version 21H1 (aka May 2021 update) was officially released on May 18, 2021.
New Features in Windows 10 version 21H1
Unexpectedly, there is no exciting new feature in May 2021 update. The most remarkable new features include Windows Hello Multicamera Support, Windows Defender Application Guard Performance and WMI Group Policy Performance improvements.
Windows Hello Multicamera Support
Users having a PC with an internal and external Windows Hello camera can now set an external camera as a default camera to sign in to a PC using Windows Hello.
Windows Defender Application Guard Performance
You can configure programs and applications to run in a virtualized, isolated, or sandbox environment with WDAG (Windows Defender Application Guard) feature. This feature requires administrative privileges.
WMI Group Policy Performance
In order to enhance the remote work environment, Windows 10 has got WMI (Windows Management Instrumentation) GPSVC (Group Policy Service) performance boost.
Where are all rumored features?
People waiting for exciting features (like TLS, secure DNS, and new search experience) rumored in the 21H1 version may postpone their expectations to the upcoming Windows 10 21H2 (probably October 2021 update).
How to get Windows 10 version 21H1 update?
Users having Windows 10 2004 and 20H2 will only need to spend a little data as the 21H1 update is a small size upgrade for 2004 and 20H2 users. This is an auto-update that will install automatically.
Windows 10 version 1909 or prior versions will have to download the whole large update, similar to downloading the full ISO file.
How to Download Windows 10 v21H1 ISO?
Besides tricky methods, you can download Windows 10 v21H1 (May 2021 update) ISO using our Windows 10 ISO download tool.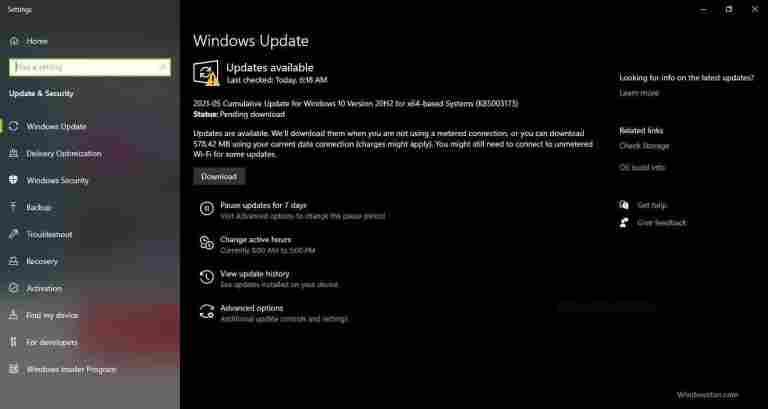 Windows Update
The best and safest way to get this update is to update your existing Windows 10 from the settings panel. If you already have updated the previous version 20H2 or 20H1, the update would be small in size. While the users having Windows 10 v1909, 1903, and earlier versions should not prefer this method.
Official Tools
You can always download the latest Windows 10 ISO using WMC (Windows Media Creation Tool) or Windows Update Assistant tool. Microsoft itself officially releases both.
No doubt this is the most secure method to download and automatically install the latest version of Windows 10, but it has disadvantages, such as:
If power fails or the computer crashes, and you downloaded 99%, you will lose all progress and start from zero.
It is a background download, and you can not have the ISO file for future use.
The download speed might be slower as the program uses its own background downloader.
Third-Party Websites
Windows OS is the soul of your computer. Suppose someone has modified and uploaded it on their own website or third-party server. In that case, none of your antivirus or security suite has to save you from unrestricted and unauthorized access. Beware of such downloads.
Web browser tricks
You can trick Microsoft servers into showing you the Windows 10 ISO download links. You may use Chrome, Firefox or any web browser. This is a kind of valid method but not easy for everyone.
Windows 10 ISO download tools
Though a third-party tool, if any tool takes you to official Microsoft servers and then helps you download the original Windows 10 ISO from original Microsoft servers, this is also a safe and valid method to get the latest full ISO of Windows 10 from Microsoft.
Windows 10 ISO download tool by Windowstan is such type of utility software that does nothing but leads you straight to the official download link of Windows 10 ISO. The download will either start in a browser or an internet download manager (like IDM); in any case, you can see and verify the download link.
Download Windows 10 ISO download tool
The approximate ISO file size is 5.8GB for 64-bit and 3.9GB for 32-bit.